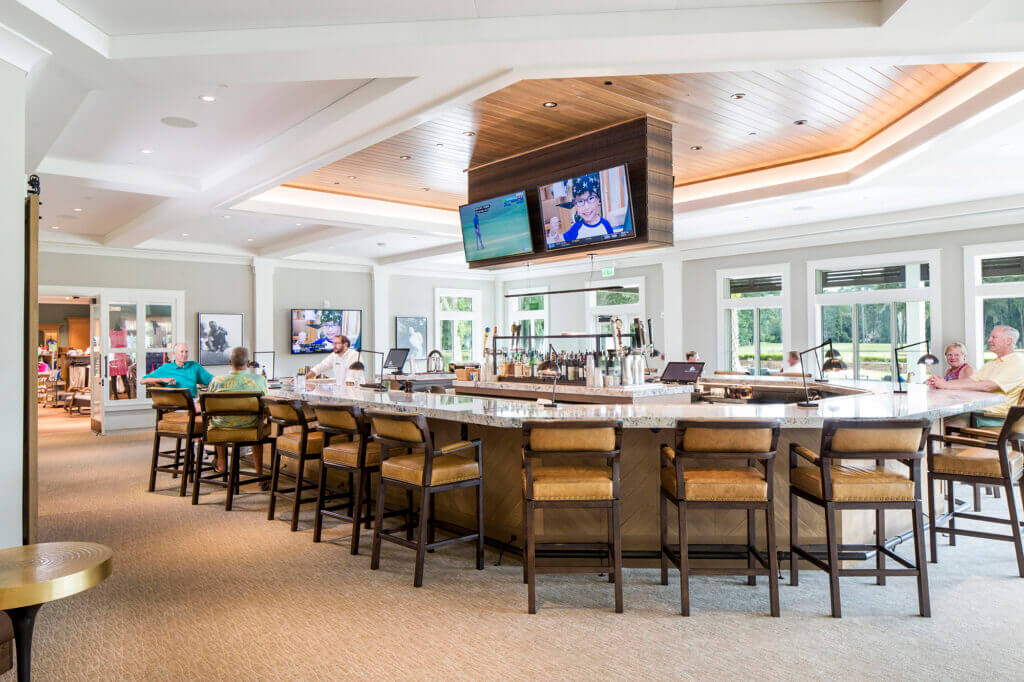 In 2003, country star Alan Jackson and pop icon Jimmy Buffett teamed up for the hit song "It's 5 O'Clock Somewhere." For the past two decades, the team at Kuo Diedrich Chi has been producing a string of critically acclaimed hits themselves – albeit in the golf clubhouse design business.
And to borrow that ever-popular refrain from the Jackson-Buffet song, it's certainly 5 o'clock somewhere in the changing world of private golf and country clubs that KDC is helping to reimagine with newly designed dining venues rivaling the finest resort-style restaurants and hippest big-city bars.
The list of KDC's notable hospitality hangouts continues to grow as the private club industry evolves into a place no longer singularly focused on golf. It is rapidly becoming one that increasingly needs to cater to multi-generations of families and members who are both male and female.
Is it 5 O'Clock Yet?
Among a foursome of popular architectural creations by KDC in recent years are the Whiskey Library at the Els Performance Golf Academy in Vietnam, a collaboration with golf great Ernie Els; Balsam Mountain's new Double Top Village overlooking North Carolina's Blue Ridge Mountains, highlighted by the indoor-outdoor Member's Grill with wine cellar and tasting room; historic Lake Toxaway's Firestone Bar and Grille; and a couple of new clubhouse venues at the Landings Club in Savannah, Georgia, including the first branded Palmer Steakhouse and Tavern at a private club, a privileged partnership with golf icon Arnold Palmer.
What's on the boards? KDC is creating extraordinary destination dining amenities for two top private club communities in South Carolina: The Daniel Island Club in Charleston and the prestigious Colleton River Club in nearby Bluffton, which is about to get a sweeping indoor-outdoor bar and top-shelf dining venue.
For the trio of KDC principals, who first met at the University of Illinois almost 30 years ago, they would have never imagined their collective architectural passions would lead them to this ever-popular corner of the private golf industry where they're now spending so much time redesigning for the modern-day membership.
And yes, all the principals of KDC feel right at home these days.
"We didn't initially embark into restaurant and bar designs. However, it simply flowed organically," Howard Kuo says. "It's one part of how we help to make each club environment special. In the end, it's energizing and personally rewarding for our entire team."
"For me personally, I've always enjoyed a good spirit and the social aspect of being with friends and enjoying great conversations and good laughs," concluded Kuo.
Is it 5 o'clock somewhere?